Laser Skirmish Parties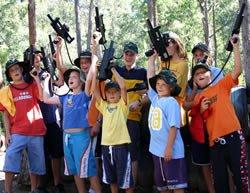 Looking for a fun easy Party idea? Try Laser Skirmish!!
Whether it's a birthday or a special event such as a Bucks/Hens Party or Social Group, Laser Skirmish CQ offers a great range of options to suit all age groups.
Most parties are held in our open sessions at our Seeonee Park HQ or at Tondoon Botanic Gardens. Take on and match your wits against the unknown enemy.
For larger groups (30+) we can run the party as a private function where only the members of your group will be on the battlefield. Private functions may be held at Seeonee Park in Rockhampton or Tondoon Botanic Gardens or Lake Awoonga in Gladstone.. or if you have a suitable property - at your place! Night games are also available at the Heritage Village in Rockhampton or Tondoon Botanic Gardens in Gladstone.
For the smaller ones (under 11's)
Try our basic backyard party package $300 (available Monday to Friday 9am to 6pm). The basic backyard package includes;
Hire of 10 Laser Guns (Scorpions)
Hire of 10 Bandanas
Hire of 1 Flag
Hire of 10 Camo T-Shirts
1.5 hours hire
Our extreme backyard party package $380 (available Monday to Friday 9am to 6pm) includes all the above plus
Hire of 6 inflatable camo barriers
Professional referee to 'run the fun'!
Call or email us today to discuss the options for your best ever party.