Fetes and fundraisers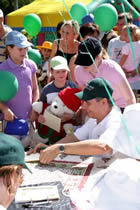 If you're on the fete or fundraising committee then you're constantly looking for new ideas for your event.
Laser Skirmish is new and exciting and is an excellent fund raiser for any group running a busy event such as a Fete, Show or Festival. In fact, we are often seen as the coolest ride in the whole site.
Laser Skirmish CQ offers VALUE. Because we are new and exciting our attraction will drive new people to your event. We can organise a fixed fee, based on number of gaming guns, event duration and location.
The format is one 5-7 minute session and during busy periods up to 6 missions per hour can be completed.
Contact us to discuss how we can make your event an even bigger success.